A Practical Guide to Boosting Your Finances for a Merry Christmas
The festive season is fast approaching, and as a busy and overwhelmed mum, you may be feeling the pressure to make this Christmas special for your family. Whether you're looking to fund a magical holiday experience or simply want to alleviate some financial stress, there are practical steps you can take right now to make and save extra money. Let's dive into some tips and strategies that will help you navigate the path to a more financially secure and joy-filled holiday season.

1.Skills and Time
Consider your unique talents and skills, and think about how you can turn them into extra income. Whether it's freelance writing, graphic design, tutoring, or crafting, there's a market for your abilities. Websites like Upwork, Fiverr, and Etsy can help you showcase your talents and connect with potential clients or customers. Even dedicating a few hours a week to freelance work or crafting can significantly boost your income by Christmas. You could create courses, or worksheets and sell them through social media or etsy.
2. Declutter and Sell Unwanted Items
Take a good look around your home, and you're likely to find items that are no longer needed. Hosting a garage sale or using online platforms like eBay, Facebook Marketplace, or Vinted can help you turn your clutter into cash. This not only declutters your living space but also puts extra money in your pocket for holiday expenses.
3. Embrace Cashback and Coupons
Before you start your holiday shopping, explore cashback websites like TopCashback or Rakuten. These platforms offer cashback rewards for online purchases at various retailers, effectively putting money back into your wallet. Additionally, don't underestimate the power of coupons and promo codes, which can lead to significant savings on gifts and essentials.
4. Create a Budget and Stick to It
Budgeting is key to financial success, especially during the holiday season. Take some time to plan your Christmas spending, making sure to allocate funds for gifts, decorations, and special meals. Sticking to a budget helps you avoid overspending and ensures you have enough money for everything you need.
5. Plan Homemade Gifts
Consider the heartfelt gesture of giving homemade gifts this Christmas. Whether it's baked goods, handmade crafts, or personalized photo albums, these gifts are not only thoughtful but also budget-friendly. Get creative and involve your kids in crafting, making it a memorable family activity.
6. Explore Temporary Seasonal Jobs
Many businesses hire extra help during the holiday season. Temporary jobs in retail, customer service, or package delivery can provide an additional income stream leading up to Christmas. These positions often offer flexible hours to accommodate your busy schedule.
7. Set Up a Christmas Savings Account
Opening a separate savings account dedicated to Christmas expenses is a smart way to save throughout the year. You can set up automatic transfers from your main account, allowing you to save gradually without feeling the pinch. Plum helps you to save and invest those extra pennies and some investments even pay you a divided monthly.
8. Plan Potluck Gatherings
If you're hosting holiday gatherings, consider making them potluck-style. Encourage friends and family to bring a dish to share, reducing your food expenses and allowing you to focus on other aspects of hosting, such as decorations and activities.
9. Shop Smart and Early
Start your Christmas shopping early to take advantage of sales and discounts. Shopping throughout the year not only spreads the financial burden but also allows you to make thoughtful, budget-friendly purchases. My Amazon storefront is full of items ideal for a more simplified Mum Life
10. Keep the Focus on Meaningful Moments
Finally, remember that the true spirit of the holidays lies in spending quality time with loved ones, not in extravagant gifts or lavish decorations. Prioritize meaningful experiences and traditions that don't require a hefty budget.
With these practical strategies, you can ease financial worries and enjoy a more relaxed and joyful holiday season with your family. By taking proactive steps now, you'll be well-prepared to create magical memories without breaking the bank. Here's to a wonderful Simple and financially savvy Christmas!
I am running a masterclass on October 9th where I will go more in depth with getting ready for the festive period if you would like to join totally free follow the link for more information.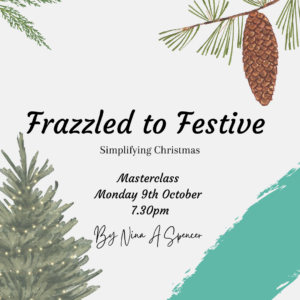 Nina x
Please note this blogpost contains affiliate links and as such if you decided to sign up to the platform I may receive a nominal reward for sharing my link.
I have no control over websites and apps outside of my blog so please use them at your risk.